Cordaid And Tech Care For All Announce New Partnership To Advance Digital Health In Africa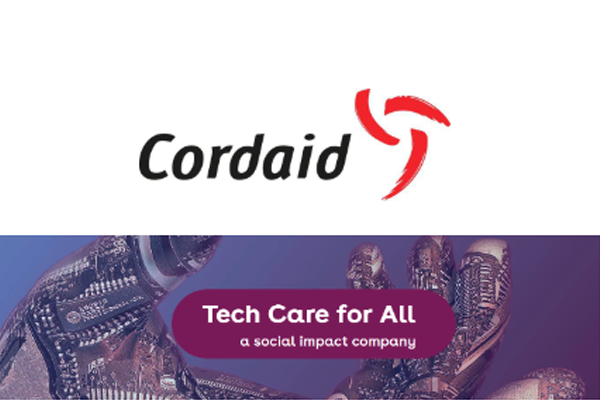 Cordaid (cordaid.org) and Tech Care for All (tc4a.com) have today announced a new partnership to improve health outcomes across sub-Saharan Africa using innovative digital health technologies. The organizations share the belief that digital technologies can sustainably and dramatically improve healthcare for people in the most fragile countries of our world. This shared conviction motivated the decision to join forces in analyzing the most urgent needs and in jointly implementing programs to improve healthcare in up to five focus countries.
Tech Care for All Founder and CEO Emmanuel Blin expressed enthusiasm for the deal, commenting, « Cordaid brings a long history of successful health initiatives in the most fragile countries of our world. Their values, their integrity, their successes make me very proud of this agreement and I am very excited to see how we can together transform the lives of so many people in need. »
Petra van Haren, Cordaid's Director of Healthcare, added: « Tech Care for All can help us achieve our ambitions for more accessible, higher quality and more affordable health care for all. I am very happy to start this new cooperation as I see so many opportunities for Cordaid to work towards global goals for health. »
Both leaders agreed that digital health has huge potential to transform healthcare and increase health equity. Cordaid and Tech Care for All will communicate further details about the partnership as they are finalized.
About Cordaid
Cordaid works to end poverty and exclusion. We do this in the world's most fragile and conflict-affected areas as well as in the Netherlands. We engage local communities to rebuild trust and resilience and increase people's self-reliance. Our professionals provide humanitarian assistance and create opportunities to improve security, healthcare and education and stimulate inclusive economic growth. We are supported by almost 300.000 private donors in the Netherlands and by a worldwide partner network
About Tech Care for All
Tech Care for All is a digital health company that operates in Asia and Africa, where new health technologies can truly transform lives and health outcomes. Tech Care for All has a broad and growing portfolio of products, along the entire patient journey, from prevention to treatment monitoring.
Contact Information :
Marc Delavarenne - marc.delavarenne@tc4a.com
Jos Dusseljee – jos.dusseljee@cordaid.org